ESR9 – Katrin Münzebrock
About Katrin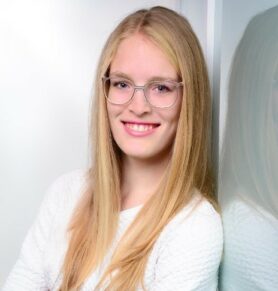 Katrin Agnes Münzebrock was born on March 30th, 1996 in Friesoythe, Germany. In 2018, she finished her Bachelor's in Molecular Medicine at Friedrich-Alexander-Universität Erlangen and then started a master's program in Molecular Medicine.  In 2019, Katrin moved to Stockholm for a 6-month research scholarship at Karolinska Institutet where she worked on the regeneration capacity of intestinal organoids. Back in Erlangen, Katrin studied the 3D-printability of collagen-based bioink for cardiac tissue engineering as part of her master thesis.
When Katrin is not busy in the laboratory she loves to sing, play soccer, and enjoys other sporty activities like swimming, cycling, or hiking. No matter the weather, Katrin likes camping and being outdoors.
Katrin's role within CARTHAGO
Katrin joined CARTHAGO in January 2021 as an early-stage researcher. She works at the Department of Orthopedics at the University Medical Centre Utrecht under the supervision of dr. Laura Creemers and dr. João Garcia. Katrin is working on the development and testing of drug delivery systems as therapeutic strategies for osteoarthritis and chronic low back pain. Her main aim is to study the delivery of chondrogenic and anti-inflammatory nucleic acids in in-vitro and ex-vivo culture systems. Additionally, she will develop and validate new culture systems (i.e. bioreactors) to selectively study the effects of the different nucleic acid/nanoparticle combinations developed in the consortium.